Musik-Tipps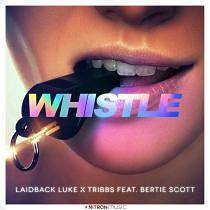 09.04.2021
LAIDBACK LUKE X TRIBBS FEAT. BERTIE SCOTT
Whistle
Laidback Luke x Tribbs feat. Bertie Scott
Whistle

Laidback Luke is one of the biggest DJs out there with his 3 million monthly listeners on Spotify. In 2019, he created a huge hit with his tribute remix of Avicii´s S.O.S in honor of the lost star DJ. Most recently, he thrilled fans with several remixes and collabs with Vintage Culture & Ally Brooke, among others.

Tribbs is a new face in the DJ scene for most, but behind the scenes he has already worked with some big names - from Oliver Heldens to Dimitri Vegas & Like Mike. Now Tribbs wants to take off on his own and is releasing his first singles.

"Whistle" is a dance cover version of Flo Rida´s mega hit from 2012. Laidback Luke & Tribbs updated the track with strong slap house beats and an atmospheric drop. The vocals by Bertie Scott provide the right freshness on top. With this track summer 2021 is ready!

"Whistle" by Laidback Luke x Tribbs feat. Bertie Scott will be released on 09.04.2021 by NITRON music - the dance label of Sony Music Germany.
BACK